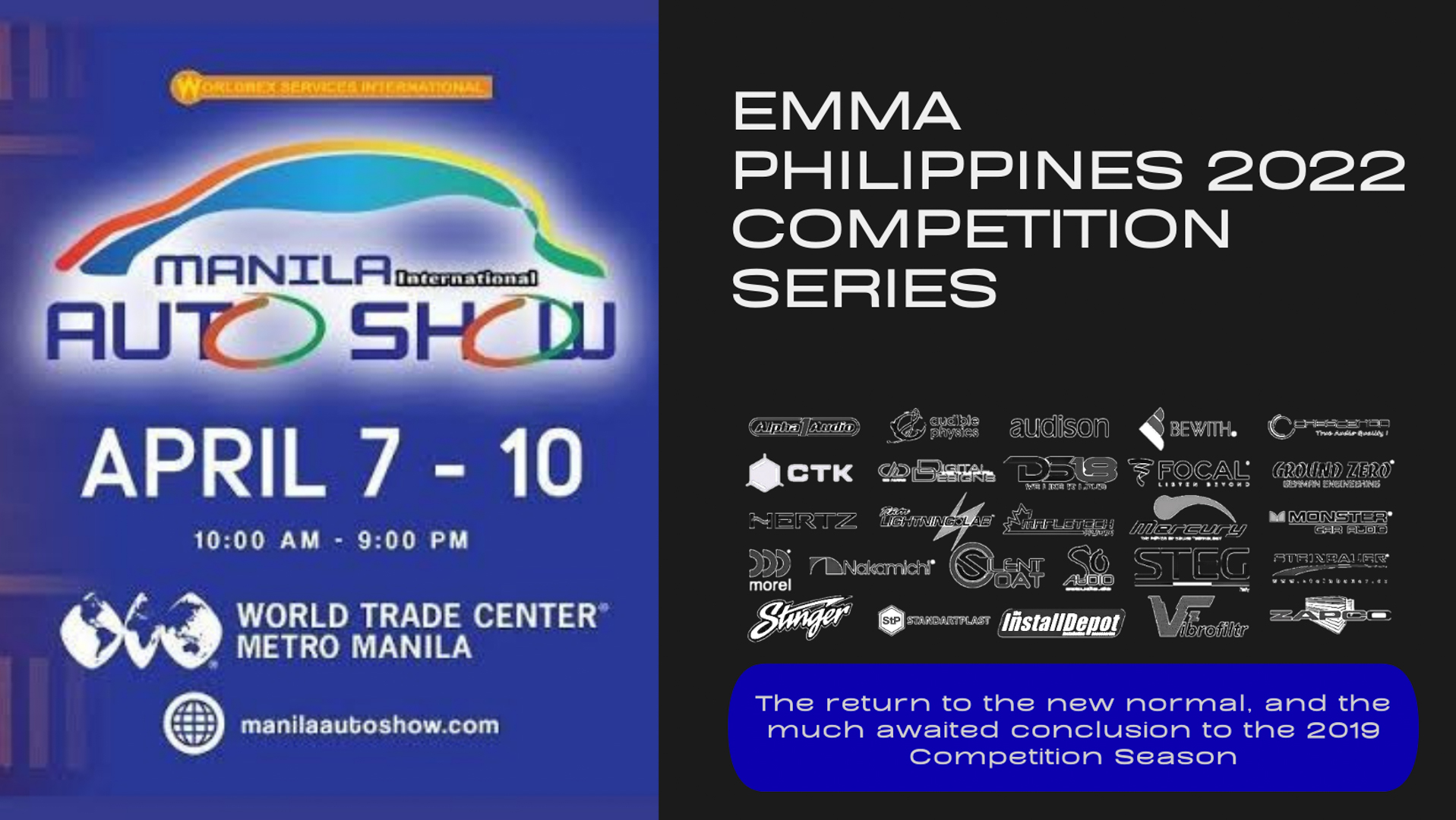 After 2 years of waiting in the sidelines while takes all the limelight, EMMA Philippines announces the return of the EMMA Philippines Competition Series. Held inconjunction with the Mainla International Auto Show 2022, the automotive aural competition will be a 4-day activity held from April 7 – April 10, 2022 at the covered driveway of the World Trade Center in Pasay City.
Due to present health situation, protocols will be enforced to prevent the further spread of COVID-19. Proof of vaccinaton or proof of recovery from COVID-19 are prerequisites for joining the competition.
Registration for the EMMA Philippinnes Manila Auto Show Competition is currently open and everyone with an audio system in they're vehice is free to enter the competition. And if you are a competitor from the 2019 season, you are automatically entered into the same category you competed in the 2019 Finals.
Registration and acceptance of participants will be open up to 12 midnight of March 23, 2022 only, NO late registration or on site registration. Every registered participant will receive a confirmation email upon your registration together with the payment details. Your registration will be confirmed upon receipt of payment. All payments must be made on or before March 31, 2022 or the registration will be considered null and void.
For the classes or categories, visit the EMMA Philippines website for a complete rundown of the categories.
Prior to the 4-day event, EMMA Philippines will be giving competitors a specific date when their car will be judged. This is to ensure health protocols are followed. Awarding will happen on the last day of competing, April 10, 2022 at 5pm.
As a treat and thanks to all EMMA Philippines supporters, all competition fees are going to be discounted regardless of products used:
Regular Competition Fee: P8,000.00 (P5,000.00 for additional categories)
Discounted Fee for all: P4,000.00 (P2,500.00 for additional categories).
2019 to 2022 EMMA Philippines Sponsors
Alpha 1 Audio, Audible Physics, Bewith, Crescendo, CTK, Digital Designs Audio, DS18, Focal, GroundZero, Lightning Lab, Mapletech, Mercury, Monster Car Audio, Morel, Nakamichi Car Audio, Silent Coat, Steg, Steinbauer, Stinger, StP, The Install Depot, Vibrofiltr, and Zapco
2019 EMMA Philippine Affiliate Shops:
AudEvo, C&J Autosound, Ginza Audio, JA Audiotek, JC Car Audio, JetCar Audio, Maspro Autosound, Mickey's Autosound, Musico Mobile Audio, MSO Audio, Primo by Auto Intensity, Quarterwave Audio, RA Autosound, SimpleSound Car Audio, Tim's Audio Garage.
To register, visit this link.