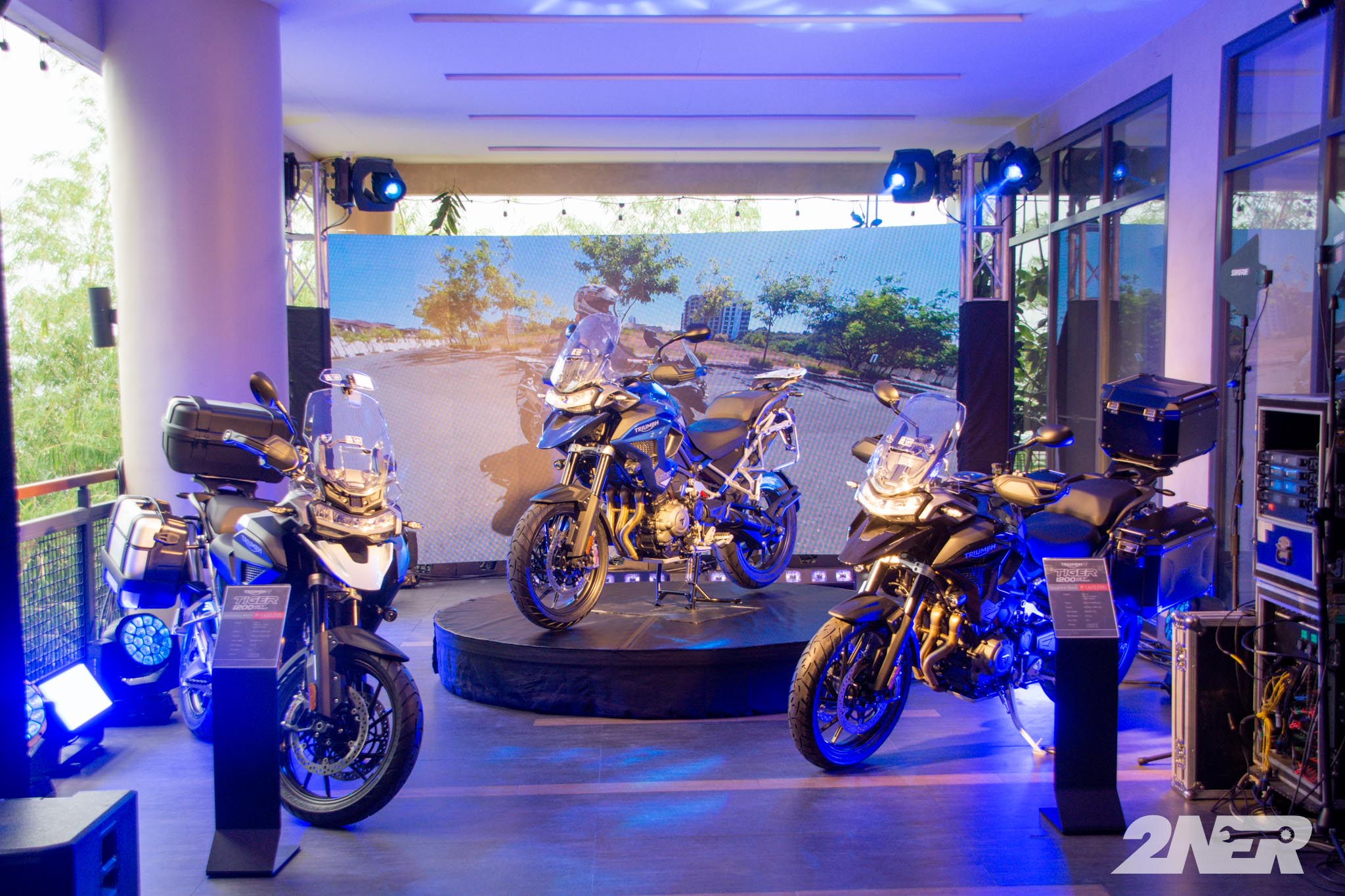 Triumph Motorcycles Philippines is thrilled to announce that the all-new 2022 Tiger 1200 is now in the Philippines, ready to explore the archipelago! The premium full-sized adventure bike was formally introduced to the local market through a media event and public demo day at Arton Strip by Rockwell on Sunday, May 15, 2022.
Guests, interested customers, motorcycle clubs, and adventure touring enthusiasts were able to try the GT Pro and GT Explorer variants of the new Triumph Tiger 1200 lineup during the occasion. They took turns mounting, examining, and test riding the motorcycles from the driveway of Arton Strip, with technical guidance from members of Team Triumph.
Other demo units of the Tiger family were available for test rides, including the new Tiger Sport 660, the Tiger 900 GT Low, Tiger 900 GT Pro, and Tiger 900 Rally Pro. Riders were able to drive any Tiger they fancied up and down Katipunan Ave. and beyond, in rain or shine with overwhelming positive response. They especially remarked on the Tiger 1200 platform's lightness, agility, fantastic handling, long-distance comfort, excellent heat management, and full technological suite.
The attendees took their complimentary lunch breaks at the buffet catered by Conti's Bakeshop and Restaurant. Meanwhile, brand new Tiger 1200 units were on display onsite in front of a screen playing footage from a pre-launch demo day at Karrera Showroom organized for select KOLs days prior.
Present at the event was Willy Tee Ten, President of the Autohub Group, the distributor of Triumph Motorcycles in the Philippines. With him was Sammy Montecastro, General Manager of the Triumph Motorcycles Philippines showroom in Greenhills. Key figures from the Wheeltek Motor Sales Corporation also graced the event, including Roscoe Odulio, Vice President of Sales and Marketing of Wheeltek, and Jet Rubi, General Manager of Triumph Motorcycles Laguna.
The first Tiger 1200 models to arrive in the country are the GT Pro and GT Explorer—road-biased premium adventure bikes now initially available through Triumph Motorcycles Philippines. The Tiger 1200 Rally Pro and Rally Explorer variants, phenomenally reviewed worldwide for their outstanding off-road capabilities, can be preordered and are expected to subsequently reach our shores around June or July.
The ultimate large-capacity ADV. The best of all worlds. Choose every advantage. Transform your adventure.
It's time to reset your expectations.
Tiger 1200 GT Pro
Snowdonia White – ₱1,460,000
Sapphire Black – ₱1,470,000
Lucerne Blue – ₱1,470,000
Tiger 1200 GT Explorer
Pure White – ₱1,625,000
Sapphire Black – ₱1,635,000
Lucerne Blue – ₱1,640,000
Tiger 1200 Rally Pro
Pure White – ₱1,525,000
Sapphire Black – ₱1,535,000
Matt Khaki Green – ₱1,540,000
Tiger 1200 Rally Explorer
Pure White – ₱1,690,000
Sapphire Black – ₱1,700,000
Matt Khaki Green – ₱1,705,000